Mission
The Teacher Empowerment Project empowers teachers to take their careers in to their own hands in order to choose more of the life they wish to live.
Origins of the Empowerment Project
The Teacher Empowerment Project started from the frustration that, whilst there was a teacher retention crisis, there seemed to be nothing to support and inspire teachers who felt on the edge of burn out; those feeling undervalued and lost; or those struggling with the demands of the midlife squeeze of juggling caring and teaching.
The project was created to be the support that was absent for teachers in need of inspiration and a boost, or for those thinking of leaving the profession. It helps teachers by providing time and space to figure out what it is they would like to achieve in their working life and how to go about achieving it. Equally, the project offers no judgement to those teachers who do wish to leave.
The Twitter account (@TeacherEmpower) provided teachers the opportunity to speak about their career concerns via the DMs and ask for advice. This became a plan to bring teachers together, to afford them the opportunity to realise they are far more skilled, resilient and talented than they would ever dare admit. The Empowerment event was born.
The companies who exhibit see teachers' skills from a mile off - their interest reminds us of our worth, our talent and shows us that we do have options. The workshops provide us with the time and space to explore what it is we want from our careers. The attendance of the events also serves to remind us that we are not alone in feeling disempowered.
The project has seen many people begin to make positive changes in their careers - changes such as moving jobs, gaining promotions, changing sector, starting their own business, diversifying their income, partaking in CPD, meeting wellbeing experts, networking with like-minded people and much more.
The greatest success from the project has come from seeing teachers invest in themselves, recognise their worth and choose more of the life that they wish to live. Teachers: the possibilities are endless.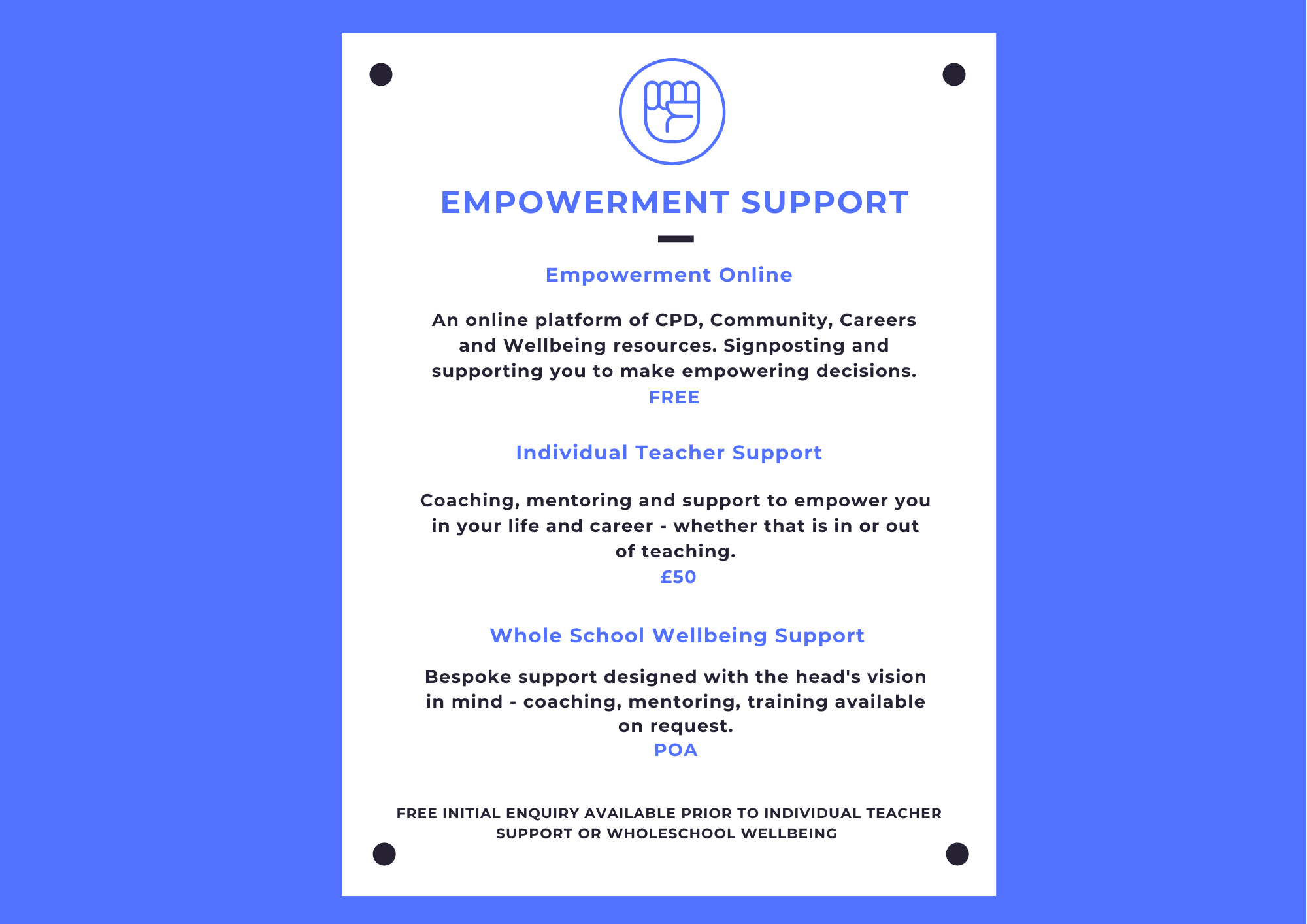 Teacher Empowerment Consultation work - Kathryn supports national wellbeing projects, head teachers, educational start ups and several boards of trustees to make values led impactful decisions with regards to empowering teachers and students. Consultation support starts at £50 per hour.
Please note - Kathryn is currently at capacity with regards to voluntary consultation support. Paid work will be prioritised.
Teacher Empowerment Online
The Teacher Empowerment Online platform is our event in a virtual space. The platform will provide you with a much needed boost: it will empower you with options, connect you with professionals and employers, and inspire you with stories from teachers who have made empowering changes to their lives. It is a space where you can come and get an ego boost, explore your options and consider how you can make positive changes in your career to make it work for you. The platform is filled with video content and options that are split into five categories:
'Empower Yourself' offers empowering CPD and opportunities to hear other teachers and ex-teachers discuss how they made their careers work for them.
'Wellbeing' explores ways you can improve your current situation, prioritise, value and nurture you.
'Careers and Diversify your income' explores opportunities for you to diversify and introduces you to companies that would like to help you with this and alternative career is for those of you who would like to explore other career opportunities and again will introduce you to companies that are actively seeking your talent.
'New for 2020 - Empower your students - exploring ways to empower your students by linking them to content, organisations and opportunities.
Teachers are valuable, desirable members of the workforce - if your current workplace isn't giving you what you need to be happy, someone else out there will. The right context for you to thrive does exist.
Teacher Empowerment Online is available now.